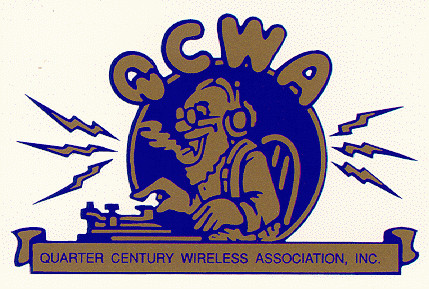 QUARTER CENTURY WIRELESS ASSOCIATION
DELAWARE VALLEY CHAPTER 5
AWARDS
---
Horace Deacon, W3AJF
Receives 75 Year Certificate

Front row: Russ Houston, K3IPC, Paul Bugen, WA3TUC, Horace Deacon W3AJF, Doug Crompton, WA3DSP

Back row: Dick McClelland, W3OOJ, Henry Dymaski, K2QWR, Ernest Kenas, W3KKN, George VanDyke, W3HK, Don Field, W2UAE
Left: Horace Deacon, W3AJF with Award

Right: George VanDyke, W3HK, Presents Award to a happy W3AJF
---
"BB" Wentzel receives 75 year certificate
from W3HK, George VanDyke, Chairman
"BB" Wentzel
1912 - 1995
BB died August 28, 1995 at age 91. He was born in Philadelphia and resided in Trenton since 1912. He graduated from the Trenton School System and the School of Industrial Arts - now Mercer County Community College. He completed a four year technical course and three years evening classes in electrical engineering. Mr Wentzel taught electrical engineering laboratory at the School of Industrial Arts for 36 years.
During World War II, he was employed as a field engineer with the Aluminum Company of America. He later joined Princeton University Palmer Labs for telemetering of unmanned missiles and airplanes. At the war's end he transferred to Princeton Plasma Physics Laboratory as an electrical engineer and designed a power sub-station for the hydrogen fusion project. While at the University he designed and built the transmitter for measuring the pressure of the atomic bomb drop at Bikini Atoll.
After his retirement from the fusion project he was in charge of the communications for the Mercer County Radio System, which included the highway department, airport and sheriff's department for 18 years. He was a volunteer with the Office of Emergency Management for 30 years.
He was one of the oldest radio operators in the United States, licensed in 1919. His call sign was W2HX. In 1920, he built the first radiophone station in the world equipped with two-way radios for the Trenton Fire Department. He served as secretary to the Hon. Barry Goldwater when he was president of the Quarter Century Wireless Association. He was the oldest continuous member since 1922 of the Engineers Club of Trenton, the 1989 recipient of the Certificate of Merit Award, a life member of IEEE, AMSAT, SOWP, QCWA, DVRA of Trenton, and also a fellow in the Radio Club of America. He was awarded a 75 year plaque by National QCWA as a licensed radio amateur.
---
National QCWA is awarding a 75 Year Plaque as a Ham Operator to Horace P. Deacon, Jr., W3AJF. The award ceremony was scheduled for February 27, 1997 at the Ft Washington Estates, the present home of Horace, but had to be cancelled because the Chairman of Chapter 5, George VanDyke, W3HK, became ill the night before and was not able to attend. Another date will be scheduled in the near future.
---
The secretary of Chapter 5, Don Field, W2UAE, received the Meritorious Award for "years of service to Chapter 5".
---
---
Return to the QCWA Chapter 5 home page