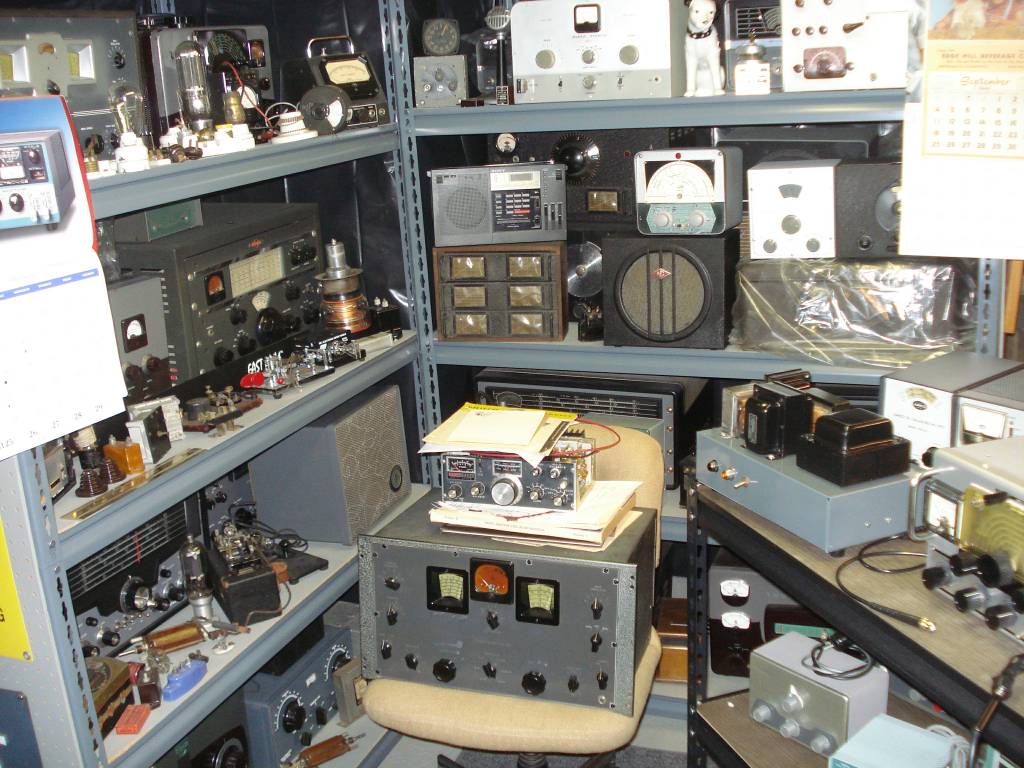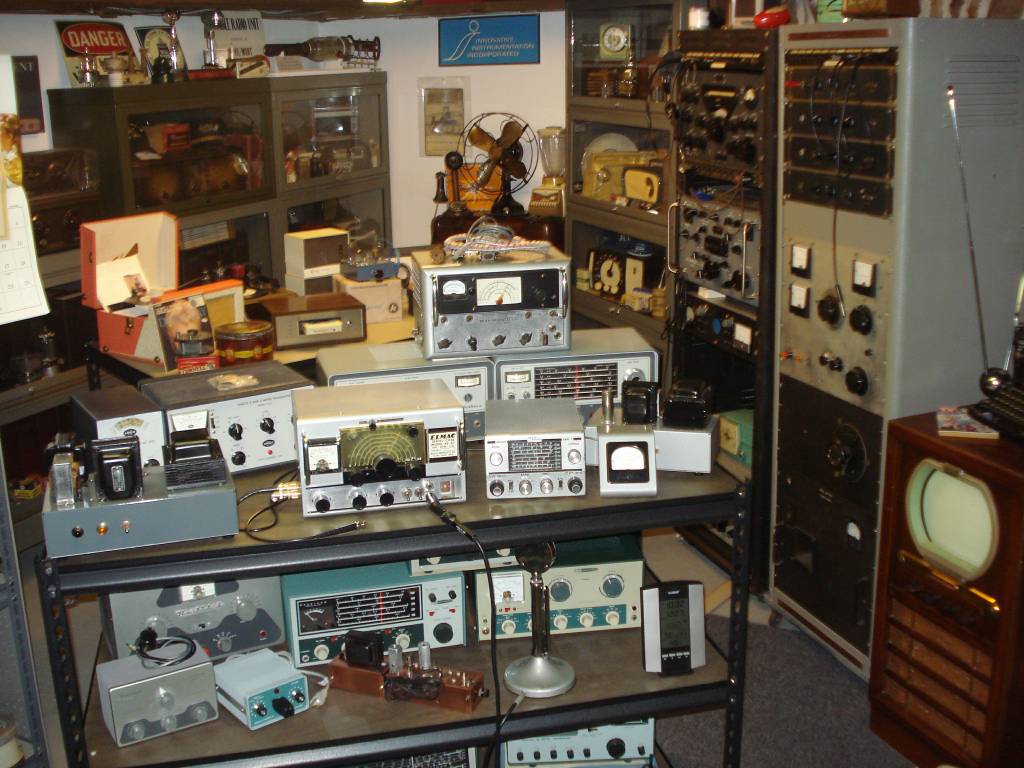 The WA3DSP Mini-Museum Virtual Tour
Museum History
The WA3DSP mini-museum started almost from the beginning of my ham career in 1966. Throughout the years I have collected numerous pieces of amateur radio and commercial radio gear. The collection is small by most amateur collector standards but it displays a wide range of receivers and transmitters used in amateur radio from the 1940's to 1960's and beyond. I also have a very large collection of parts and vacuum tubes of all types. So enjoy the photos below. As time goes by I will be adding more.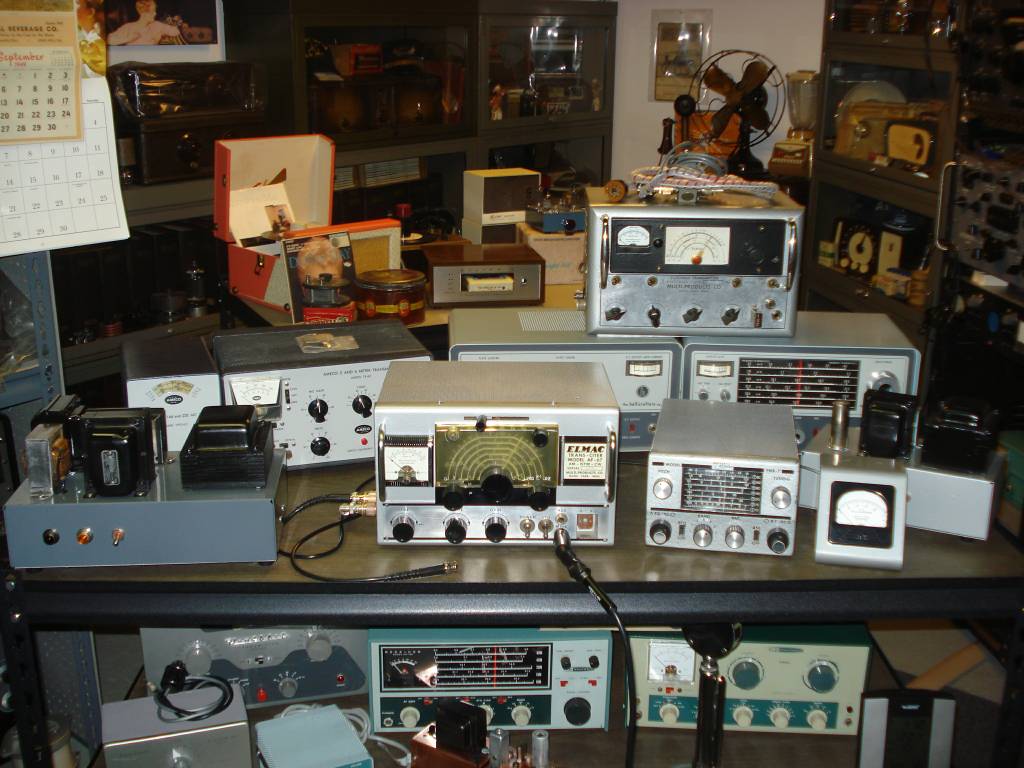 This photo shows my restored Multi-Elmac AF67 transmitter with the matching PMR7 receiver and homebrew S-meter and power supply. Behind them is the Hallacrafters SX-140 receiver and HT-40 transmitter pair. To the left rear is an Ameco TX-62 transmitter and VFO-621. On top of the SX-140/HT-40 is my restored Multi-Elmac A-54 with cables and antenna relay to work with AF67 power supply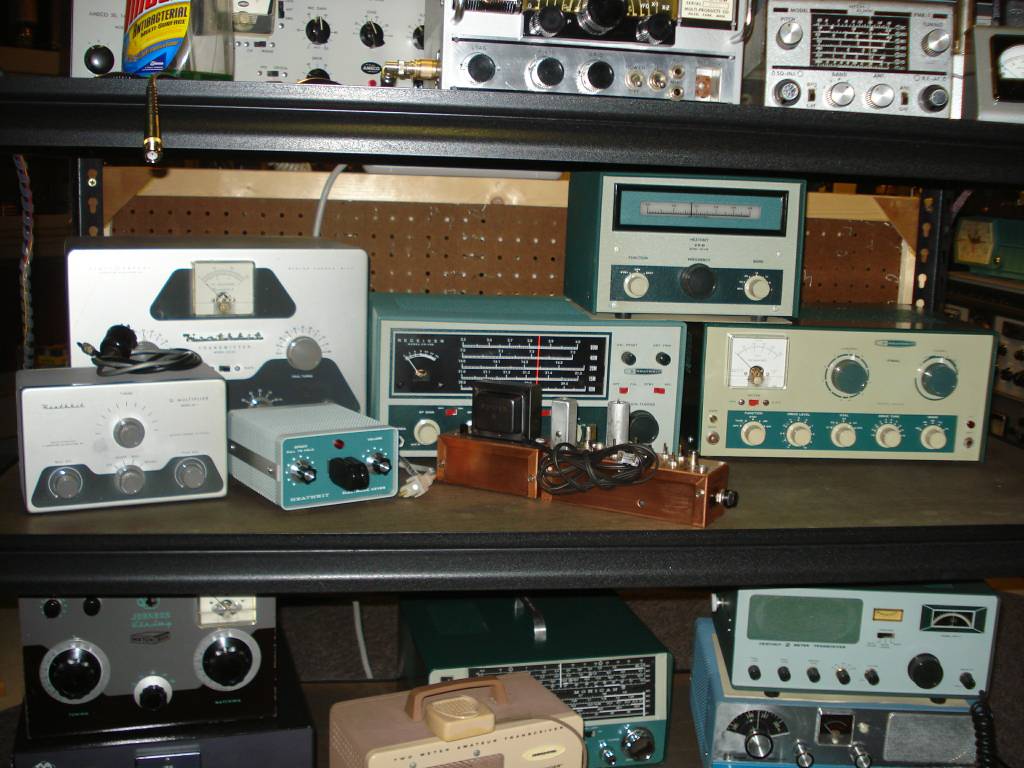 Moving down to the Heath novice starter equipment the HR-10 receiver and matching DX-60A transmitter with the HG-10 VFO sitting on top. To the left is the older generation Heath DX-40 with the QF-1 Q-multiplier and HD-1410 Keyer. At the right front is an Ameco CN-144 2 meter converter and power supply.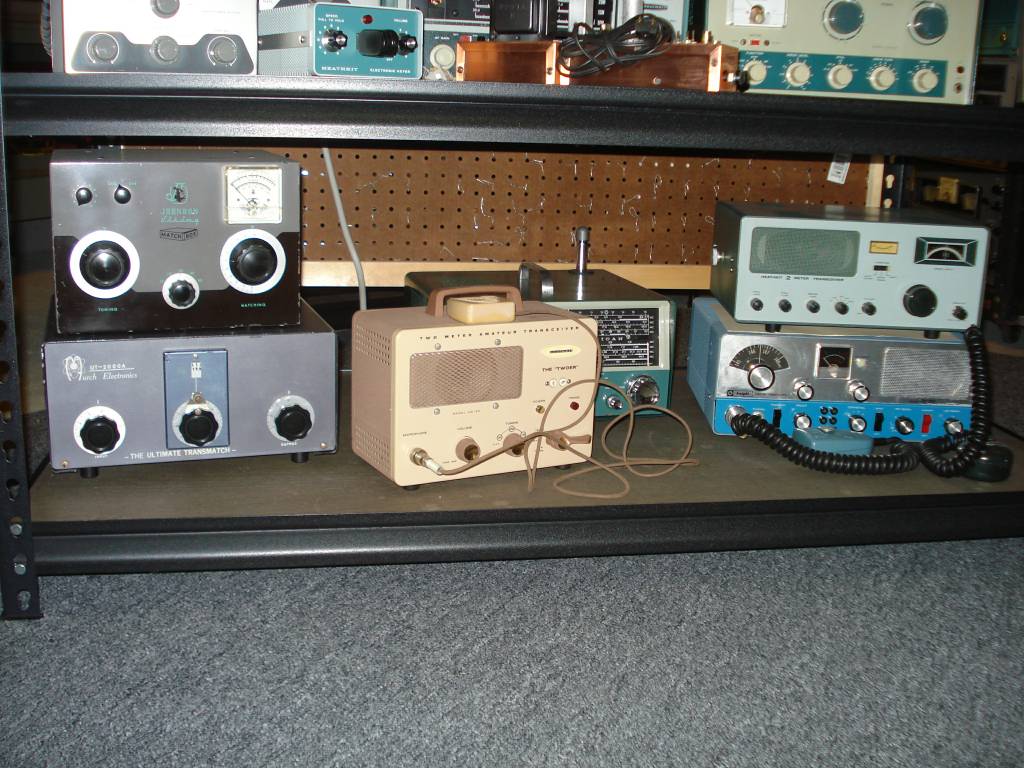 Murch UT-2000 "Ultimate Transmatch" with Johnson Matchbox Junior an top. Heath Tower with original microphone and Heath GC-1A portable receiver behind. Knight TR-108 two meter AM transceiver at the right with Heath HW-17 AM transceiver with FM adapter on top. Both have tunable receivers and crystal controlled transmitters.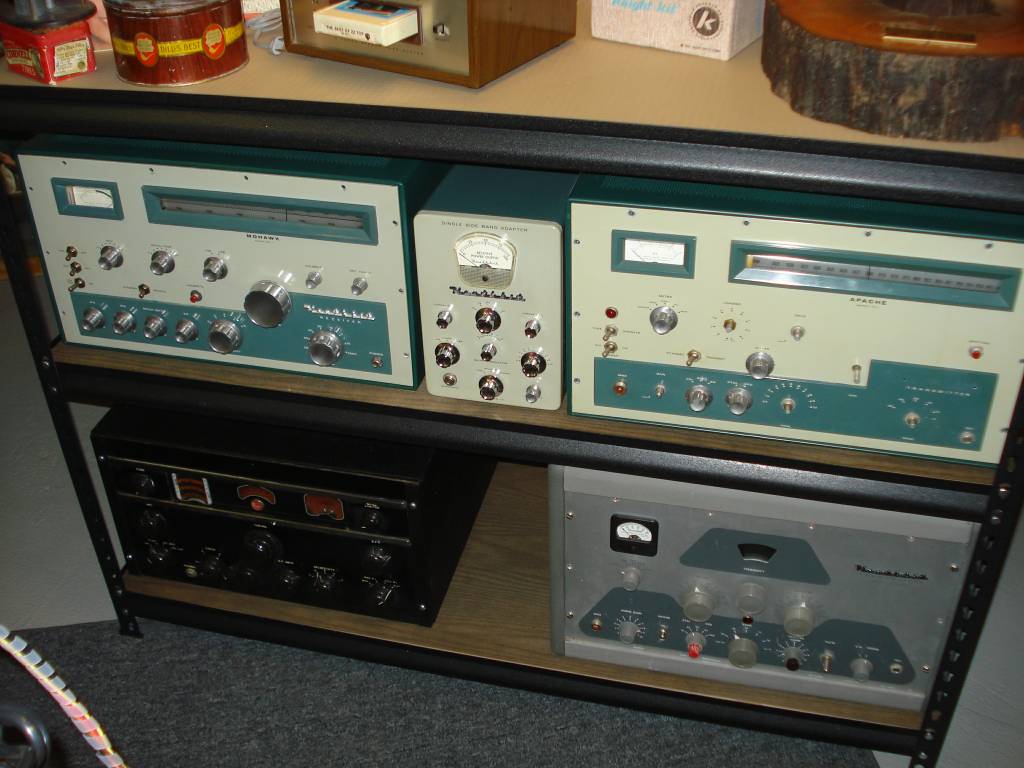 RCA AR-88 Receiver on bottom shelf left and Heath DX100 on right. Above is the newer Heath RX-1 Mohawk receiver, SB10 SSB adapter, and Apache TX-1 transmitter at right. The Apache knobs are removed and stored inside to facilitate a restoration in progress!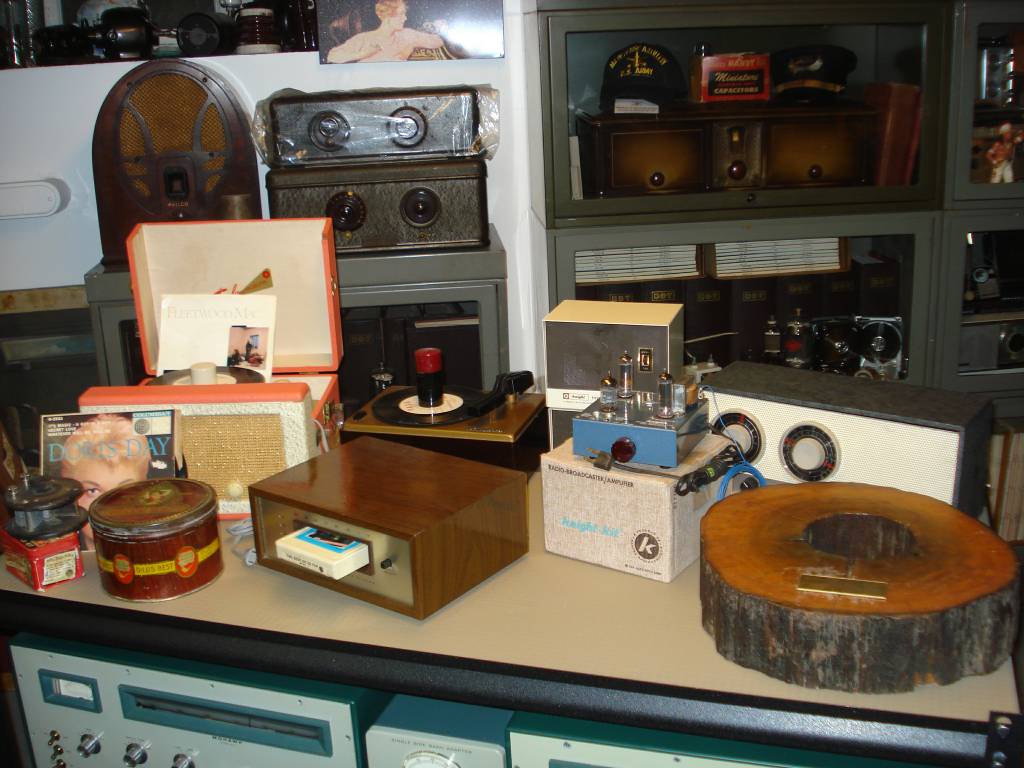 At the back left are two examples of 45 RPM players and a home 8 track cassette player in front. To the right are three Knight kits I built as a child. Unfortunately these are not the actual units but rather ones I have found recently on Ebay. The Knight Kit wired intercom, Knight AM broadcaster on top of original box, and my first receiver that I built as a kit, the Knight Span Master regenerative receiver. The log slice at the right front is an actual speciment of an original water main circa 1800-1815 excavated at Front and Pine streets in Philadelphia in 1963.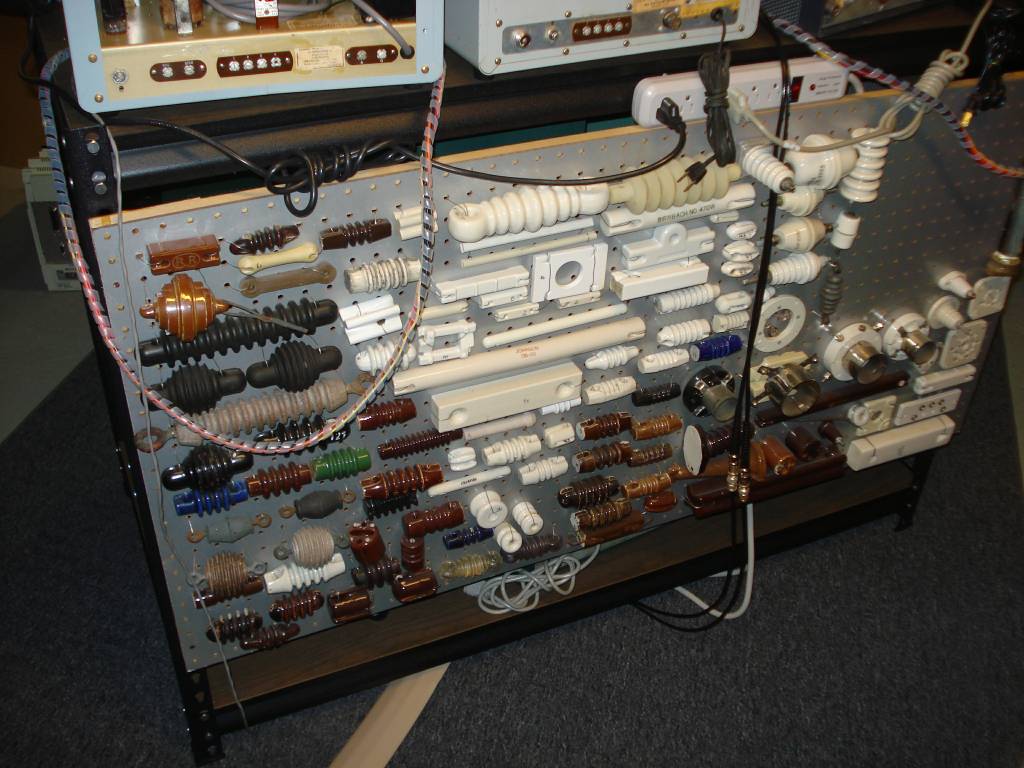 Insulator collection acquired from Bob Dennison, W2HBE (SK). I repackaged and added to it. It is mounted on pegboard and reinforced as it is quite heavy.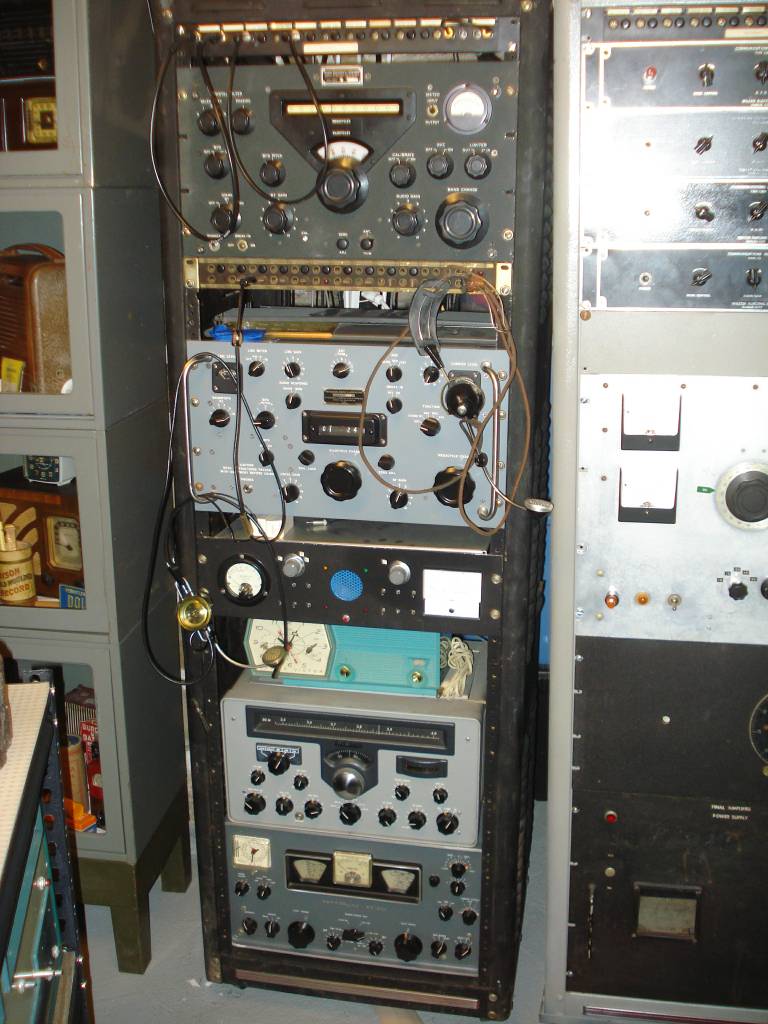 Receive rack number 1. At bottom Hammarlund HQ180 (now sold), RME 6000 receiver with 50's deco broadcast receiver on top, My homebrew RTTY demod and controller box. It used a DT600 demodulator. R390 receiver, and Collins R388 receiver at top with antenna and audio patch above and below.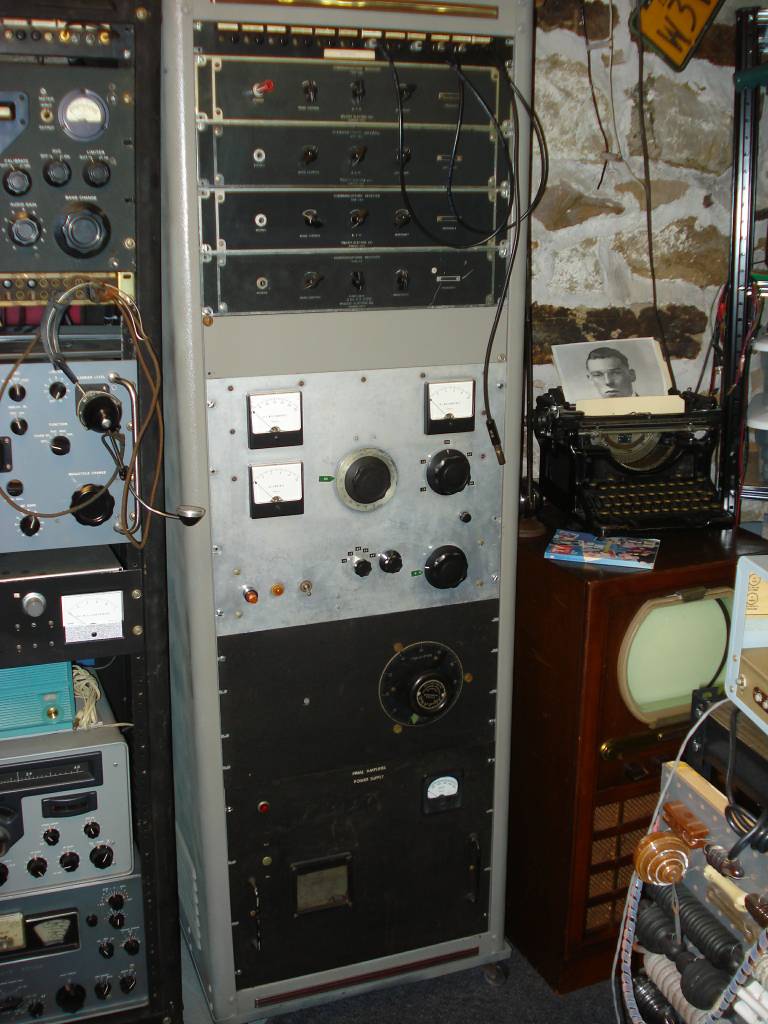 This rack has a hombrew 3-1000 amplifier and power supply at the bottom. It was build by Coleman Beeson, W3EY in the 1980's. Above are fixed aircraft receivers with antewnna patch panel above.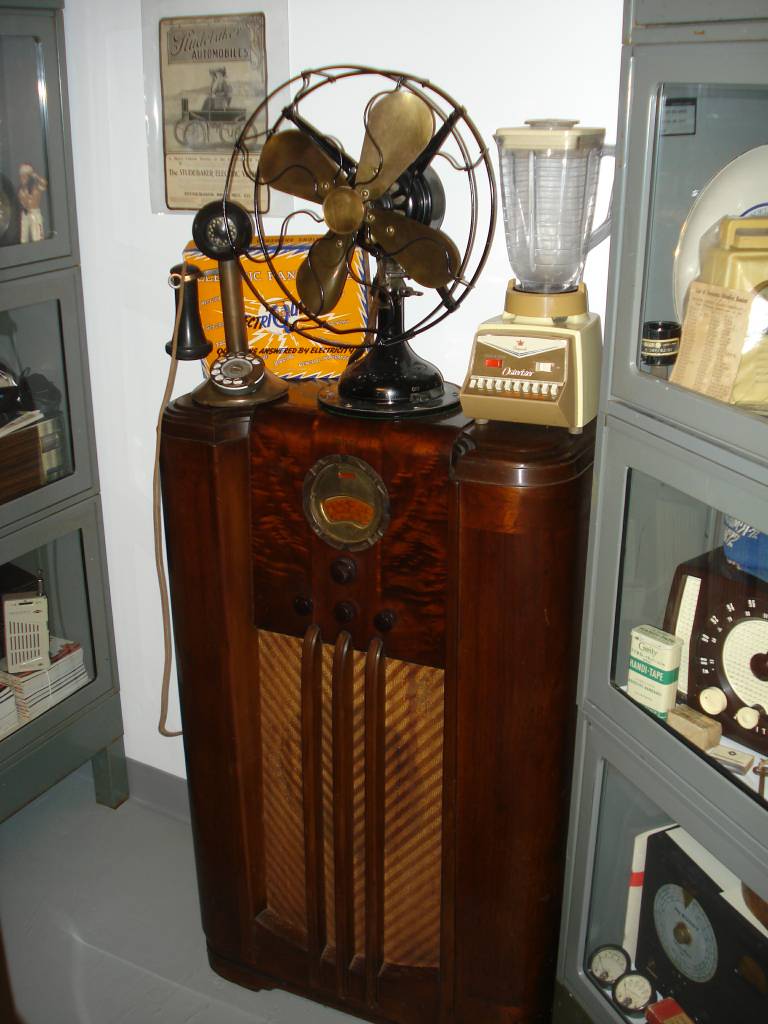 Philco floor model (bezel missing, anyone have one?) with original old fan, Phone, 60's kitchen blender, and kids game that lights up with correct answer. I remember playing with one like this as an early child and being fascinated with electricity and wires.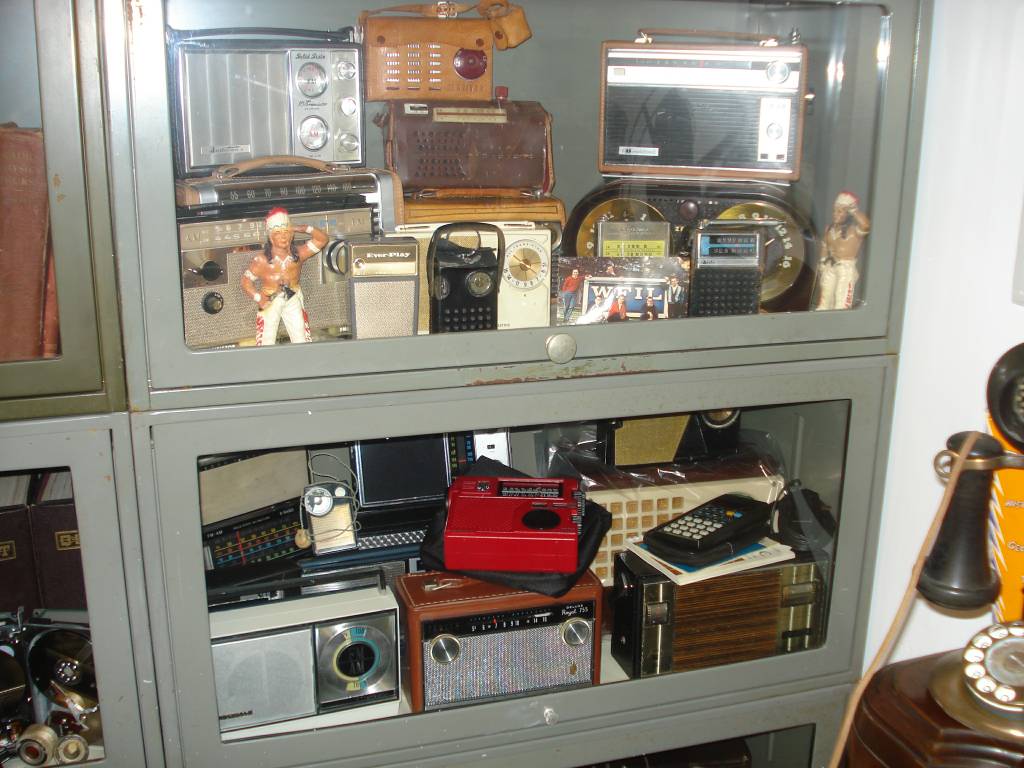 Two shelves of 1950's to 70's transistor radios. One, a Zenith in tan leather case, obsured behind the white portable on the top shelf center, was our families first transistor radio. I remember my father bringing it home. I was probably about 8-10 years old. I was amazed at how well it worked and you didn't have to plug it in! It used four 'C' cells and the batteries lasted a long time.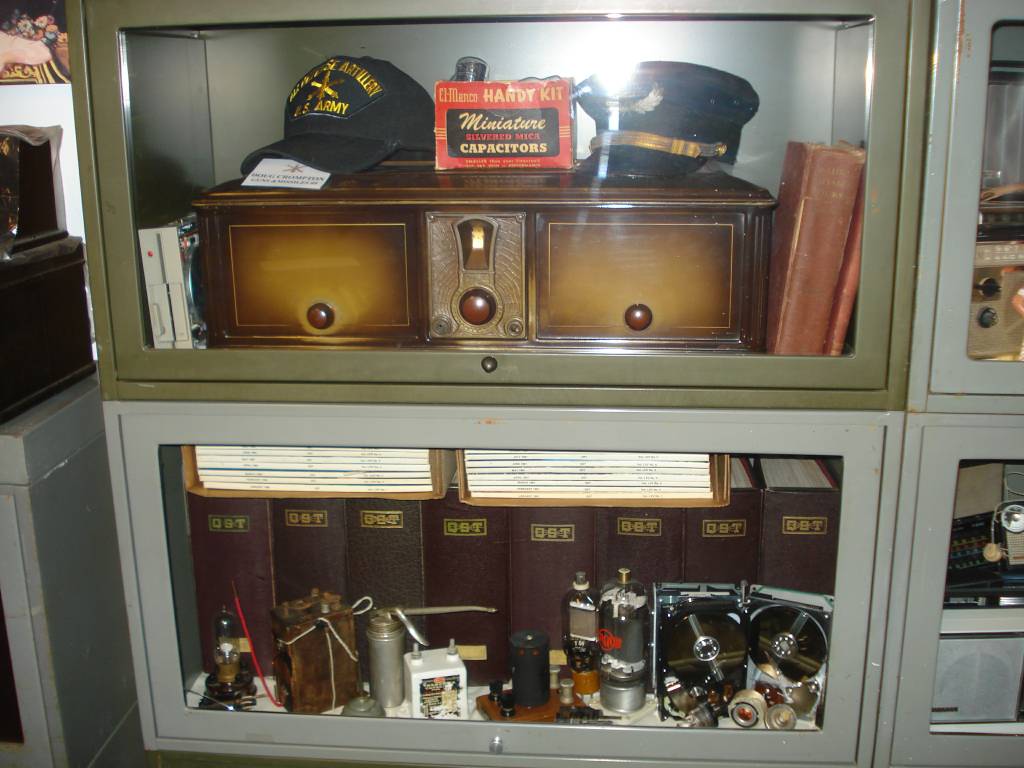 On the top shelf is a 1920's RCA broadcast receiver with an Army "Guns and Artillery" cap sitting on top on the left. This cap was given to me by a local Nike Missle group in thanks for my preservation of some of their history. To the right on top is an early ship board radio operators hat. The bottom shelf shows the diversity of my collection from old top new. Yes, thats a 2000 vintage hard drive opened to show its inner workings. In the back is a portion of my collection of QST's in binders from 1920 to present. The early QST's were acquired from the estate of Harry Stein, W3CL.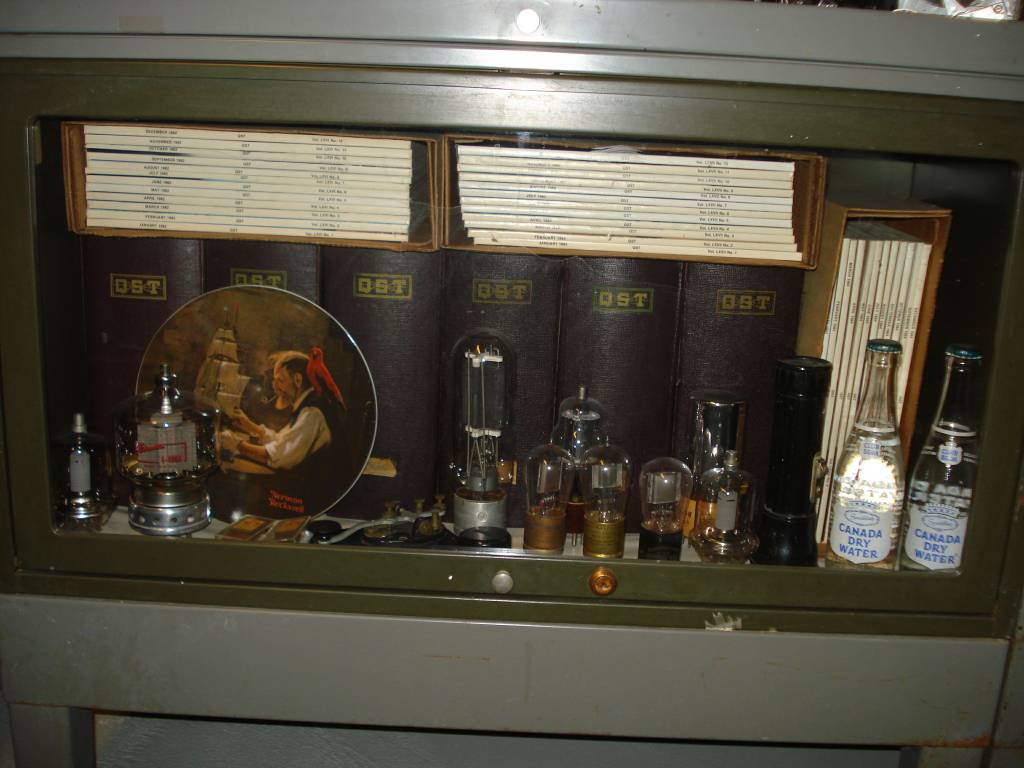 More old radio memorabilia and QST's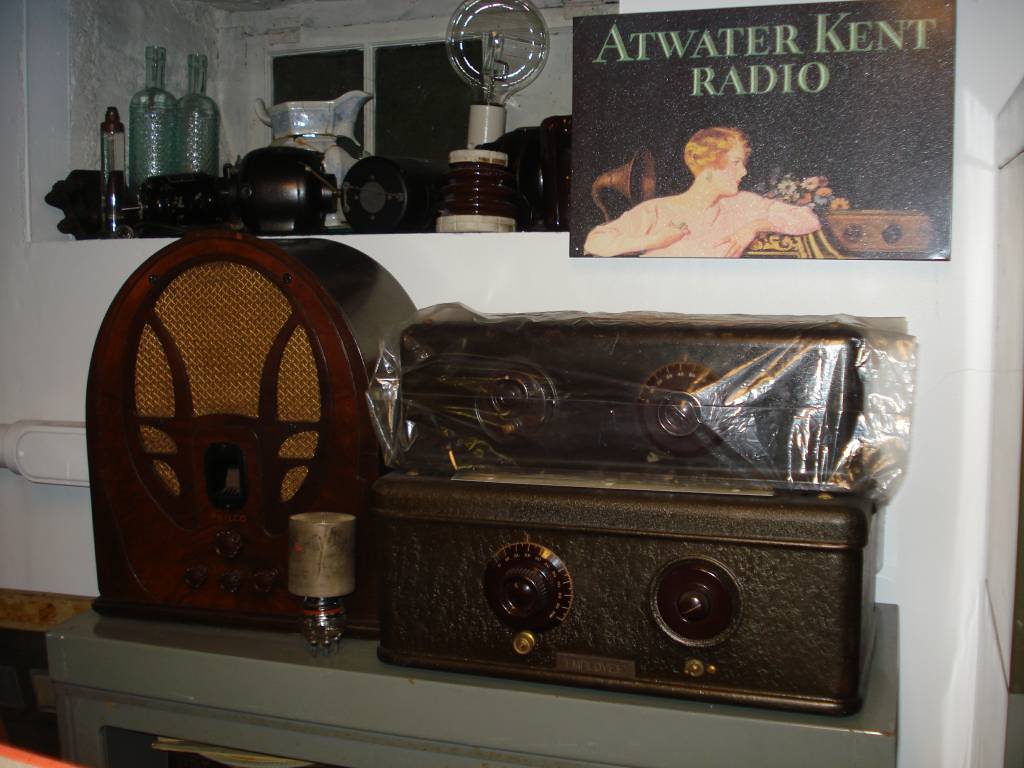 A couple of Attwater Kents and a Philco cathedral acquired from Paul Bohlander, W3VVS (SK). Old motors and memorabilia found in digs around my property on the windowsill above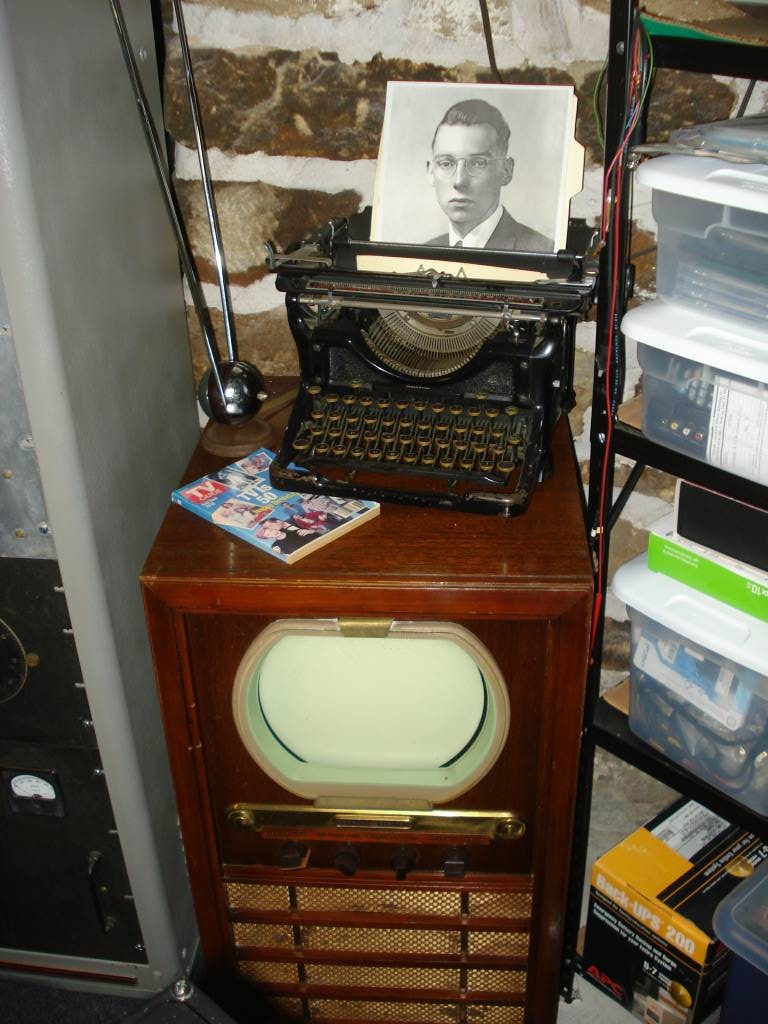 My first TV, a 1949 GE. I used this to watch TV as a child in my bedroom. The typewriter on top was one that my father used as a journalist. A photo of him as a young man can be in seen the typewriter.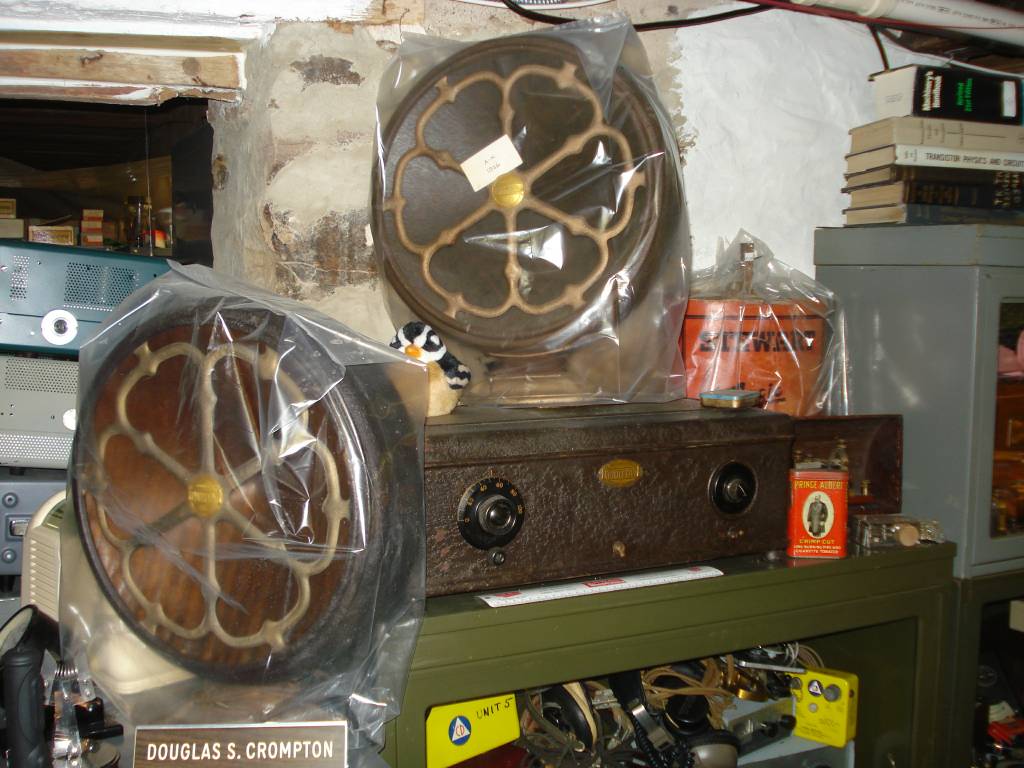 Two Atwater Kent speakers and AK receiver on top shelf with a telegraph sounder to the right.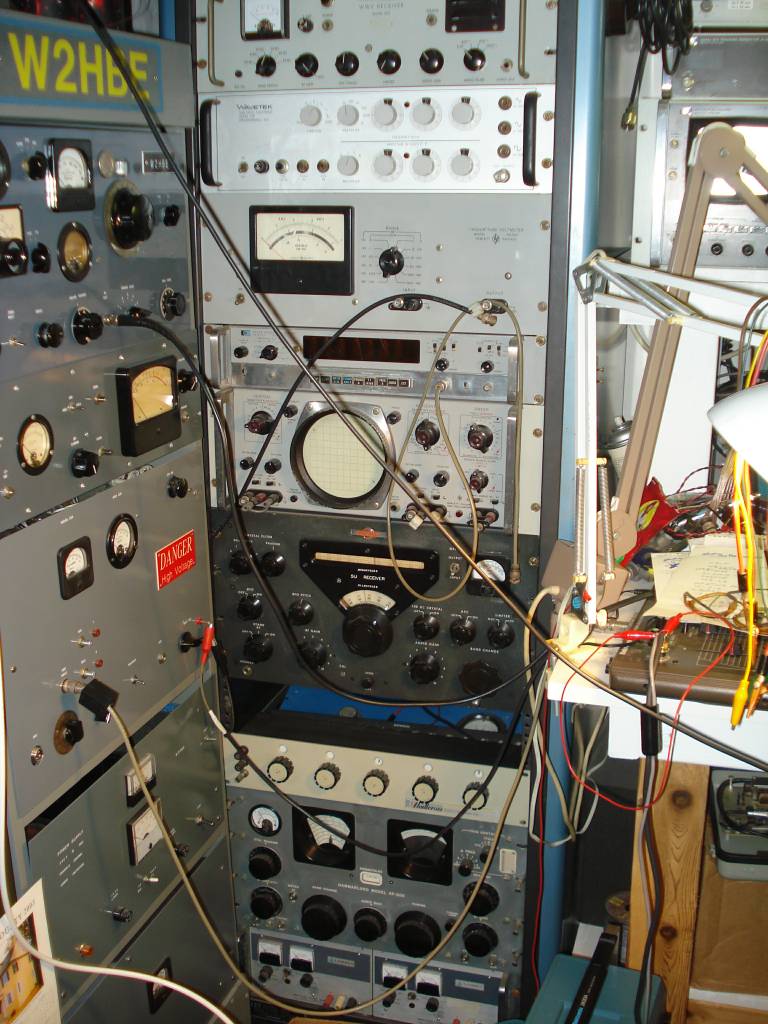 Rack in center houses some of my test equipment that is not on the bench. At top is a WWV HF receiver, Wavetek audio generator, HP AC volmeter, HP counter, Tektronix Ocilloscope, Collins 51J receiver, a decade resistor box, Hammarlund SP-600 receiver, and two side by side Lambda power supplies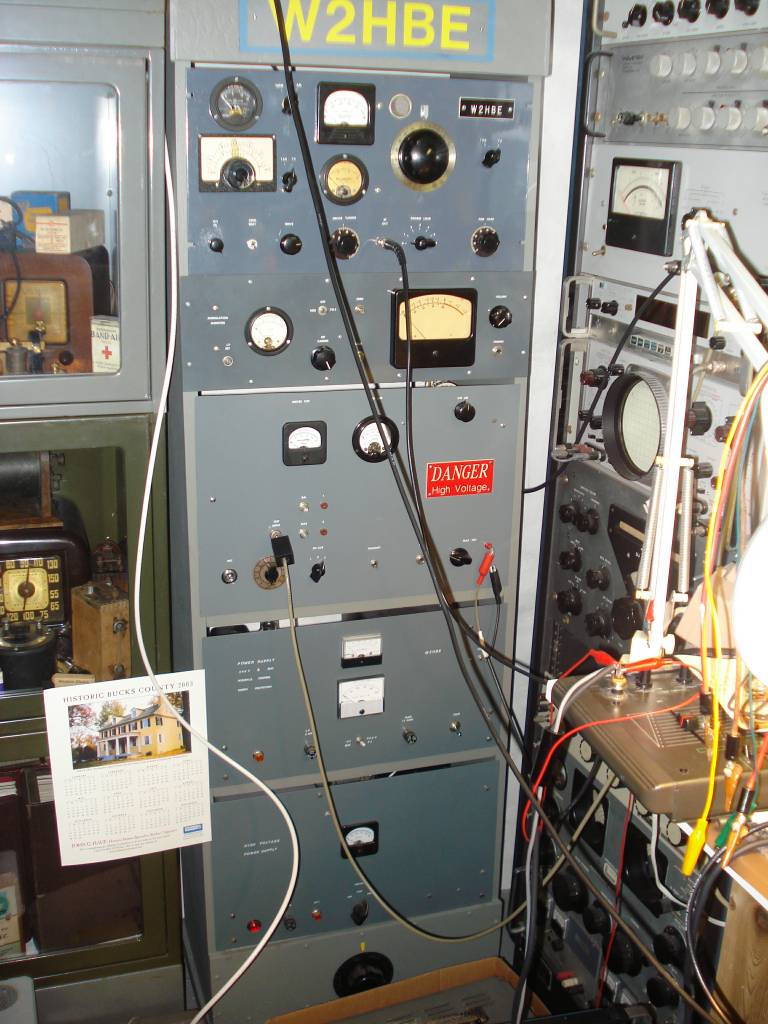 Hombrew 160/80 813 transmitter modulated by PP 811a's. This was built by Bob Dennison, W2HBE (SK). I use it often, it works well and is a fine example of Bob's excellent work. It was featured in an issue of Electric Radio. RF unit at top, then modulation monitor, modulator, low voltage supply, high voltage supple, and variac.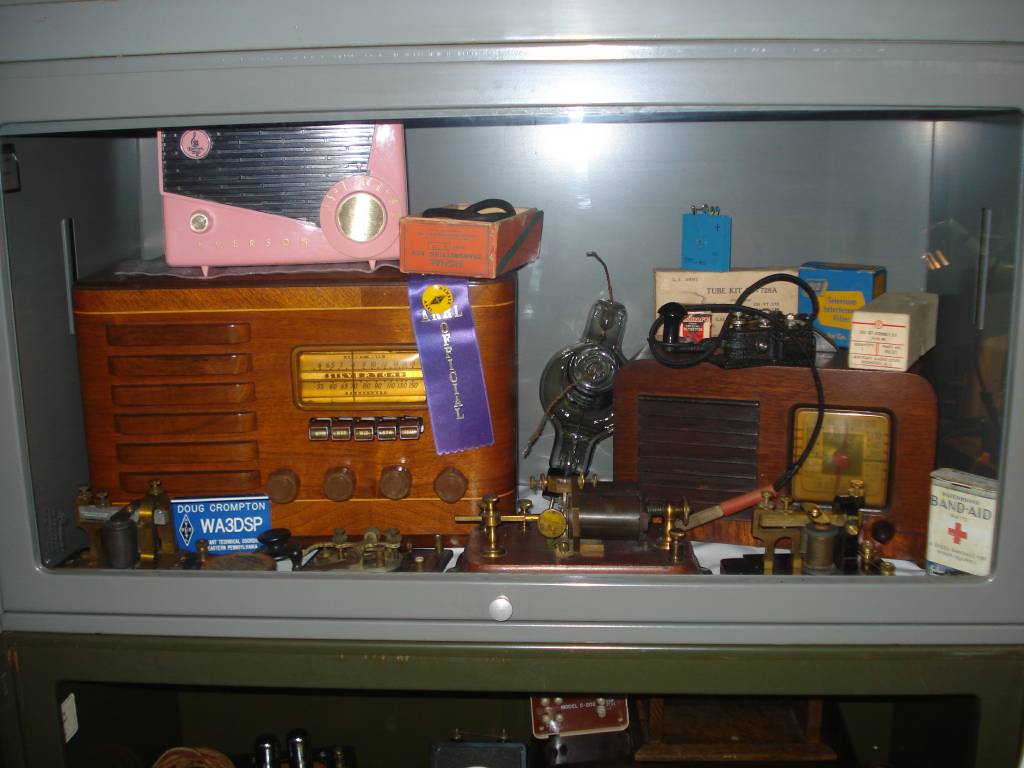 A Silvertone push button tune radio on left. It still has the Philadelphia AM stations of the era labeled on the buttons. To the right a Philco table top and various key and sounders in the foreground.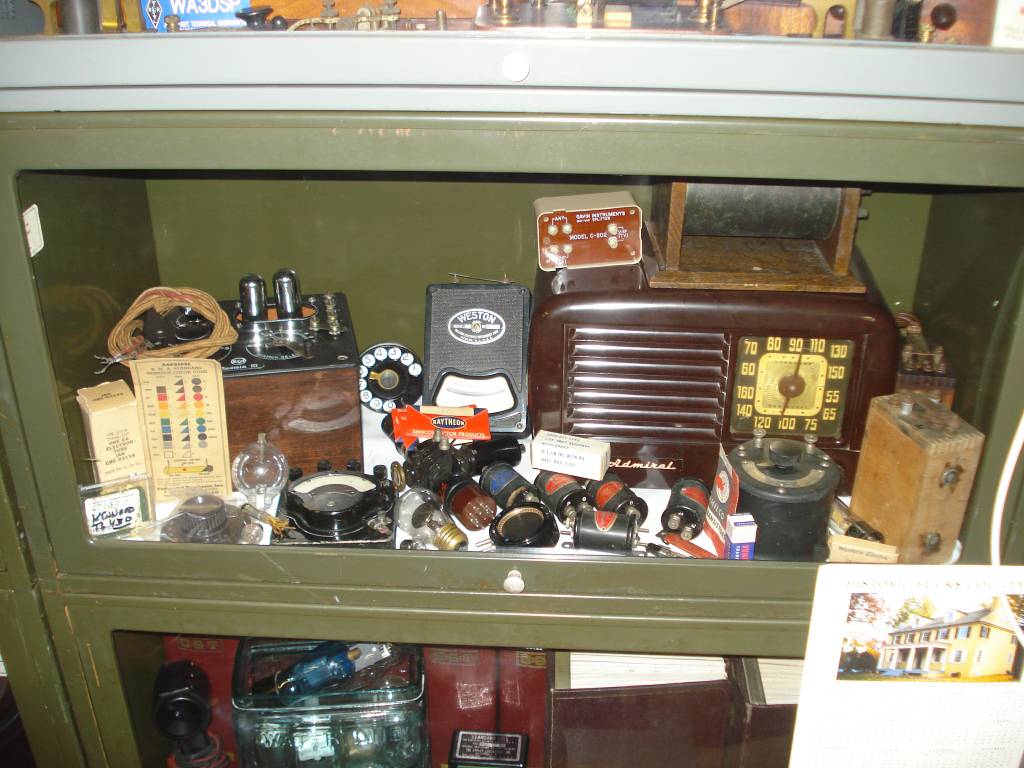 More old radio memorabilia, A radiola III a left and Admiral desktop to right.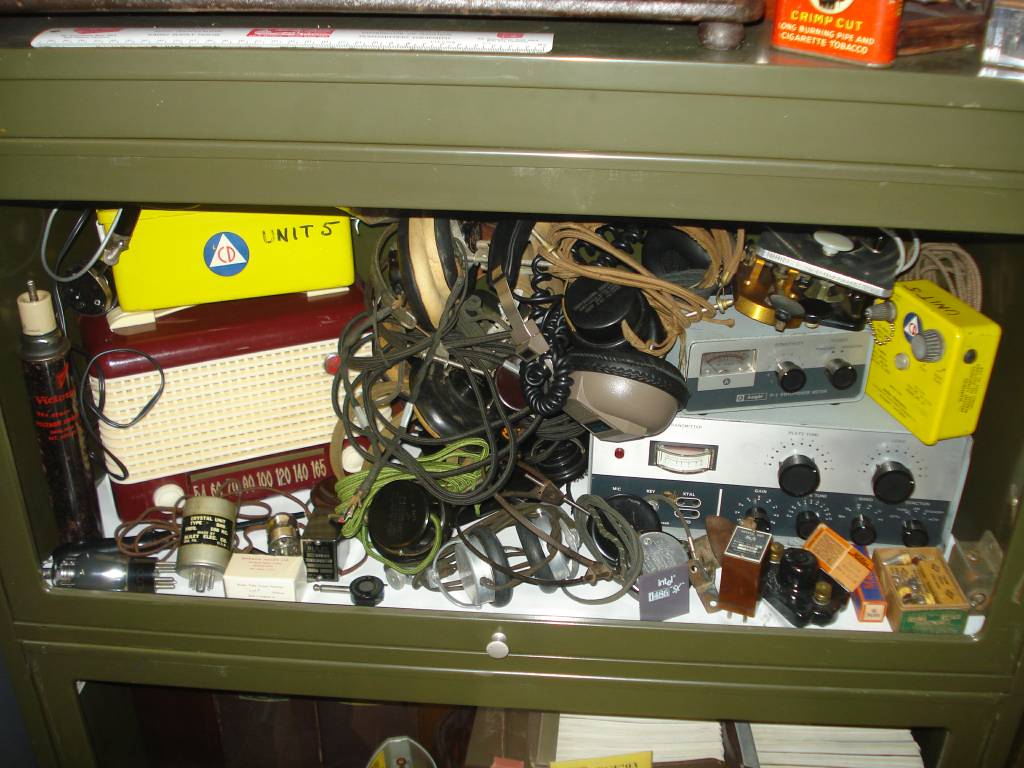 To much stuff in this cabinet! Knight T60 transmitter and SWR meter. The T60 was the first transmitter kit I built and used as a novice. The yellow box, top left, is a 1950's civil defense geiger counter.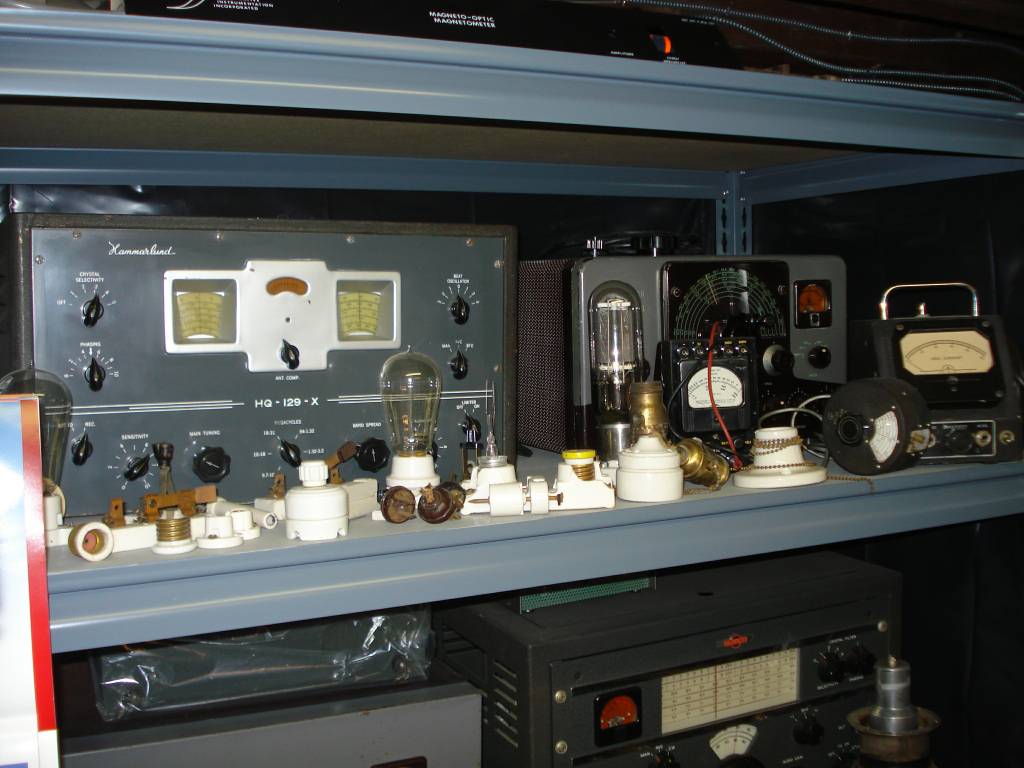 Hammarlund HQ-129X receiver and Johnson Ranger transmitter. Knob and tube wiring components in front.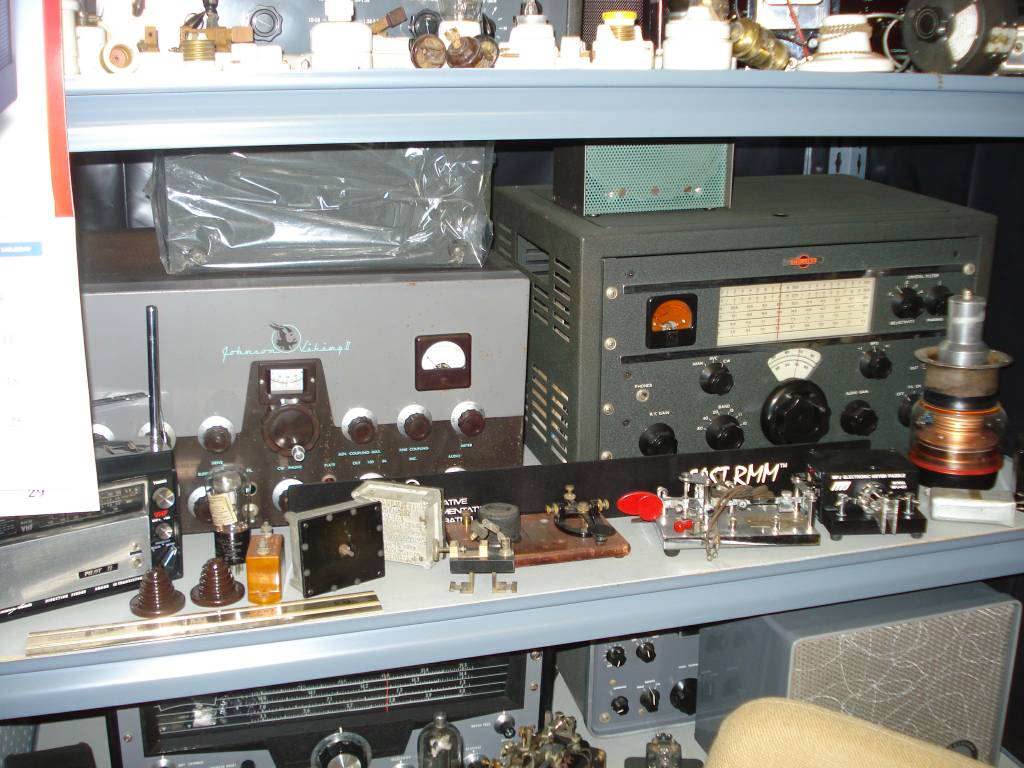 Johnson Viking II transmitter and Collins 75A1 receiver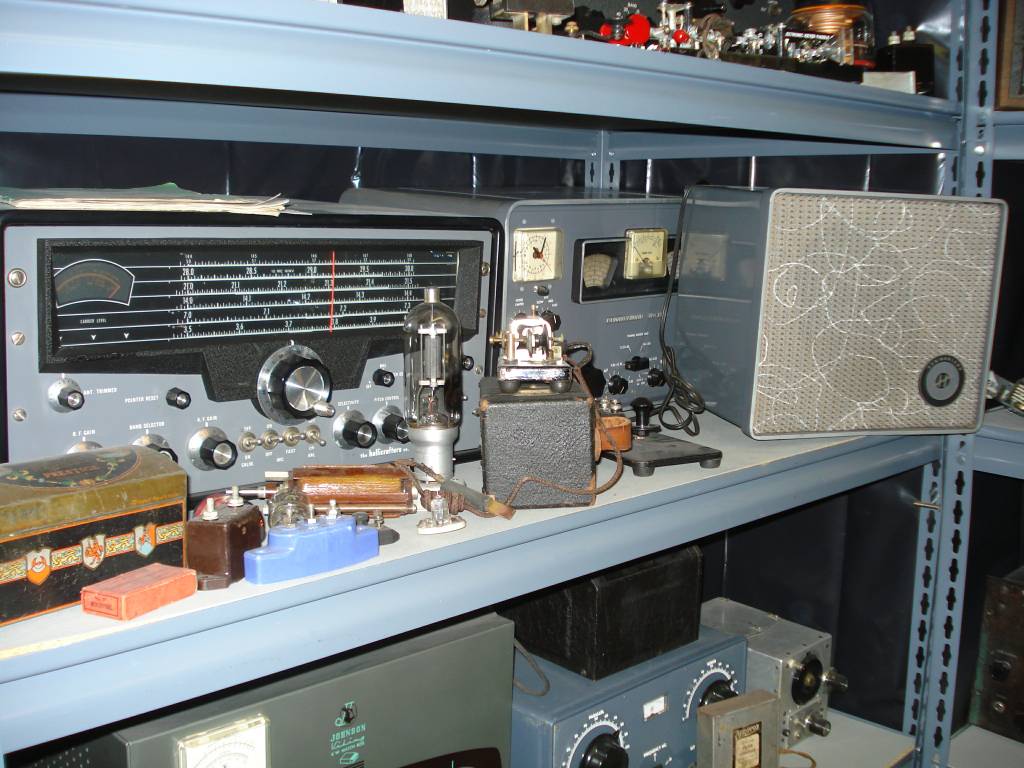 Hallicrafters SX-101A receiver and Hammarlund HQ-180AC receiver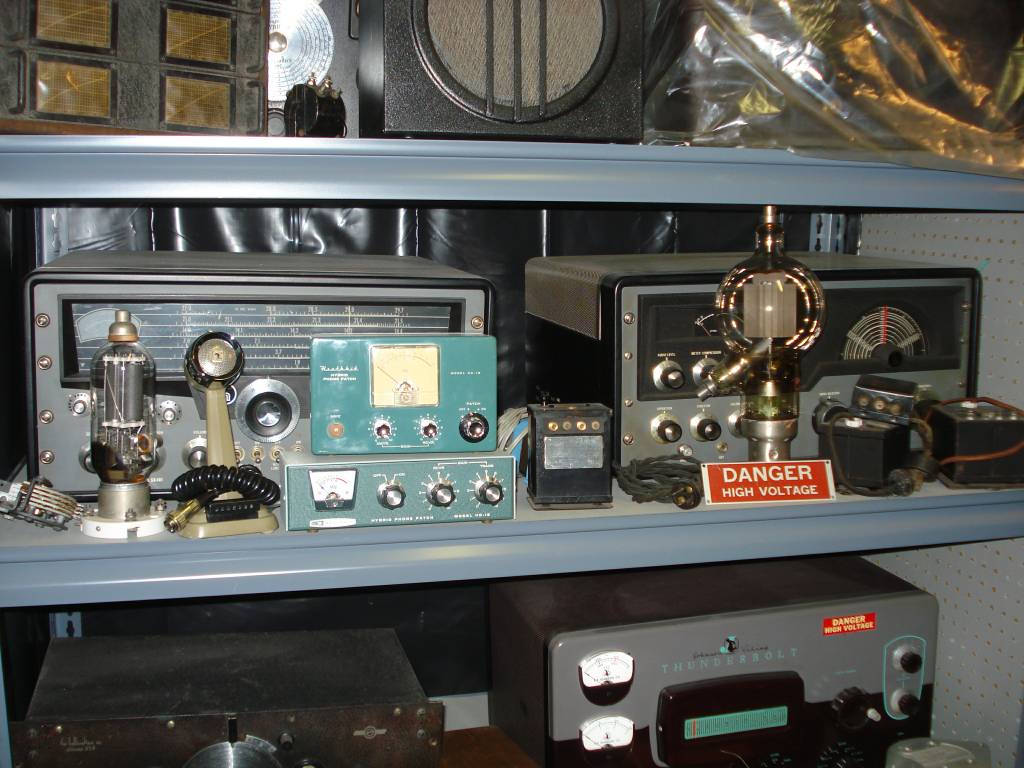 Hallicrafters SX-101 (has 160 meters) and HT32 transmitter, Heath phone patches HD-15 and HD-19 in front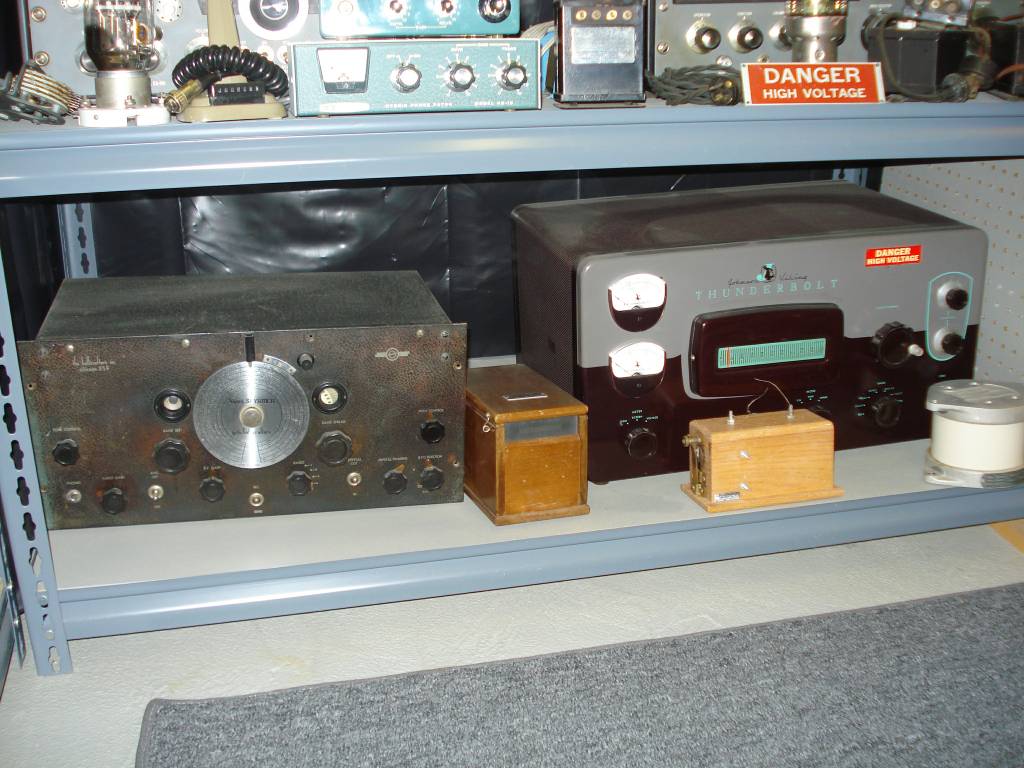 Hallicrafters SX-11 receiver and Johnson Thunderbolt amplifier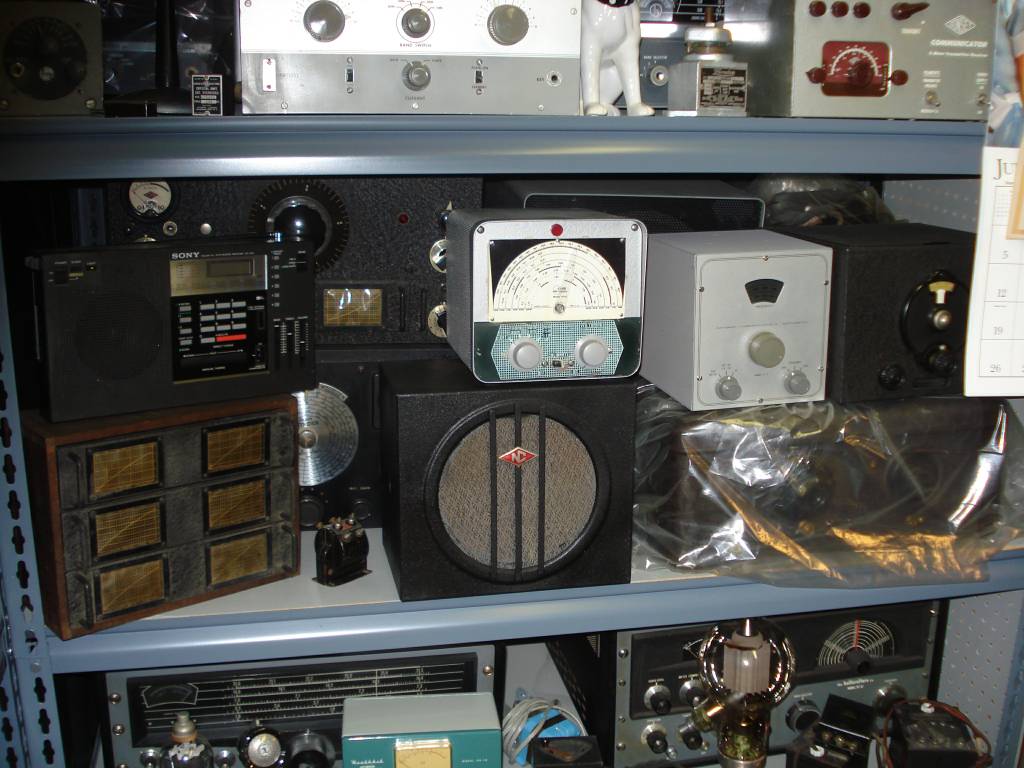 Many things obscured on this shelf - need more space! National HRO and coil set, Hallicrafters SX-17 receiver, Globe 755 VFO (missing plastic cover), Heath VF-1 VFO, National SW-3 receiver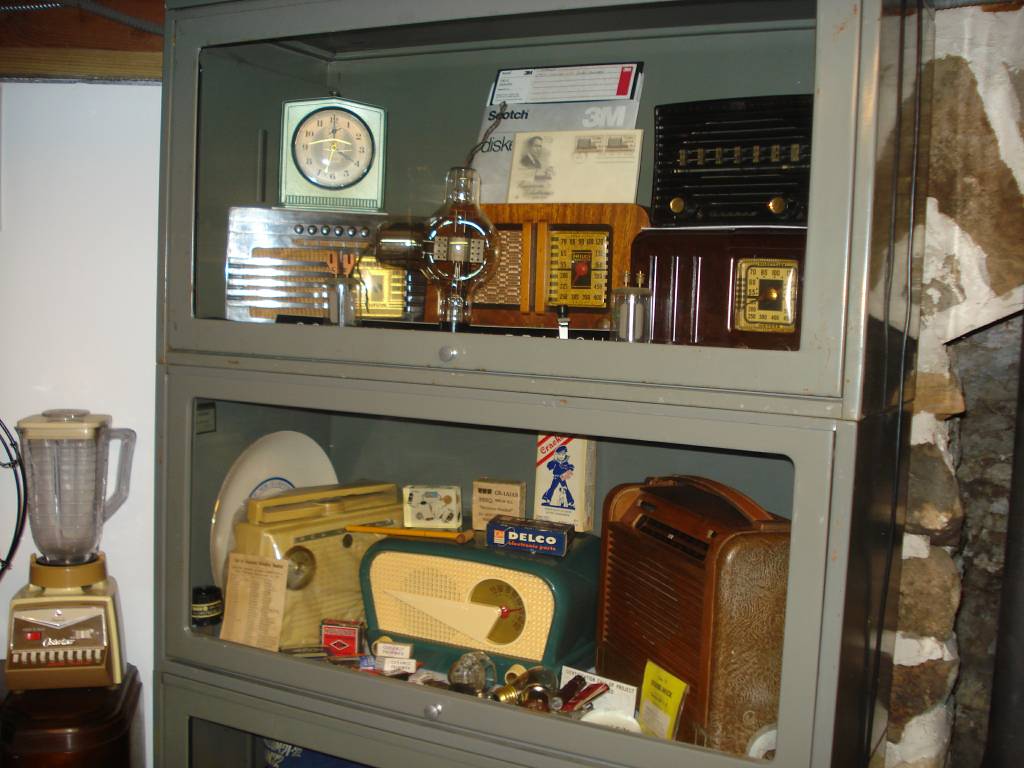 More miscellaneous memorabilia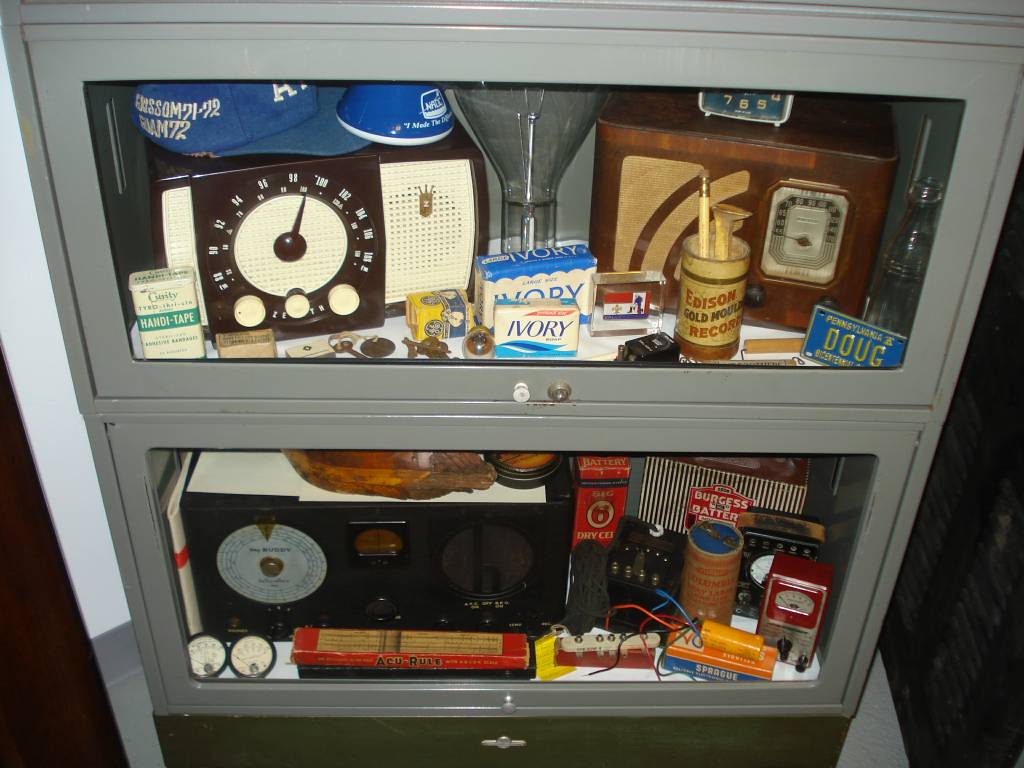 Hallicrafters Sky Buddy Reciever and more miscellaneous memorabilia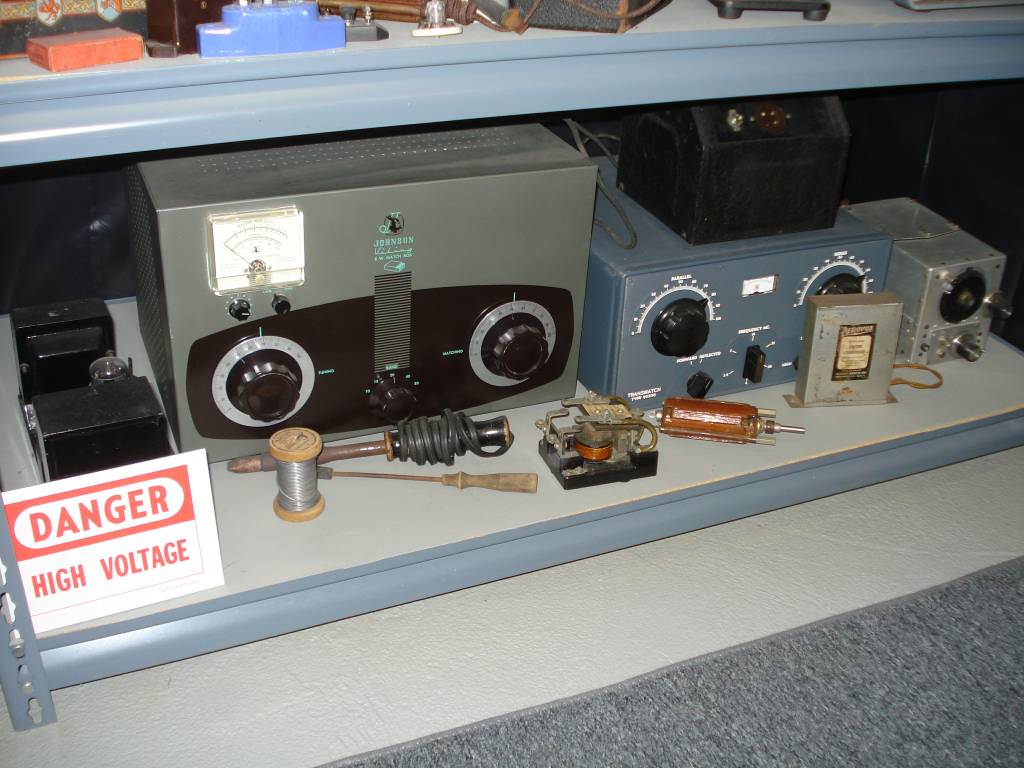 Johnson Matchbox, Millen Transmatch, and ARC-5 receiver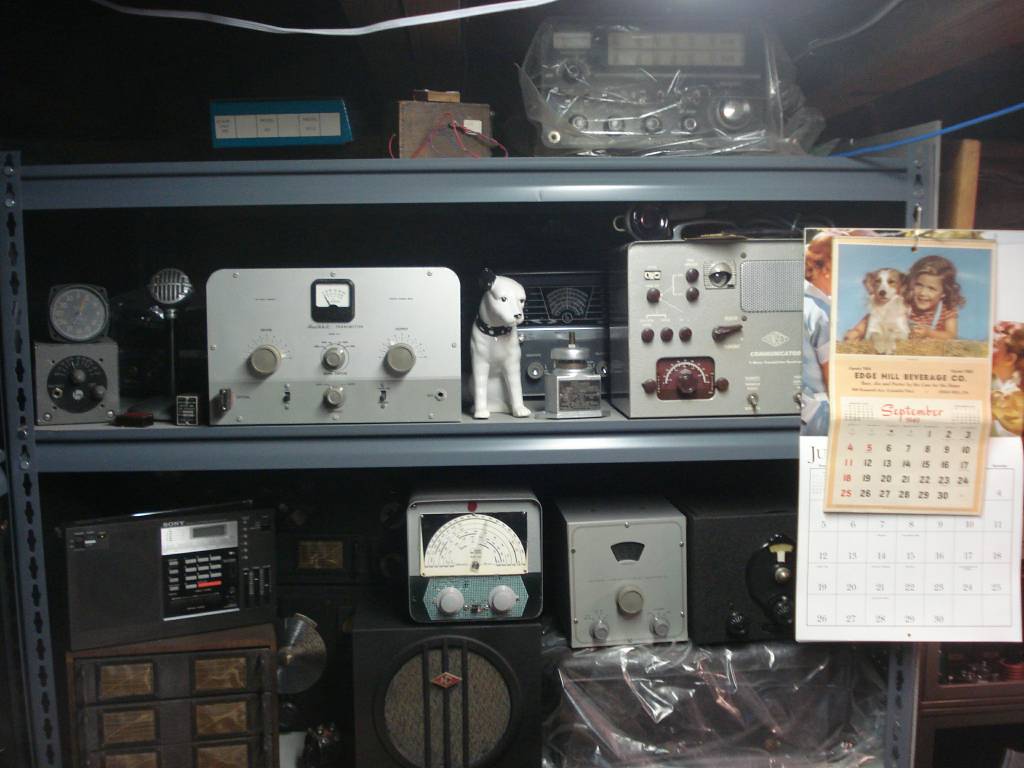 Heath AT-1 transmitter, Gonset communicator, and Hallicrafters SX110A behind. Drake 2A on top shelf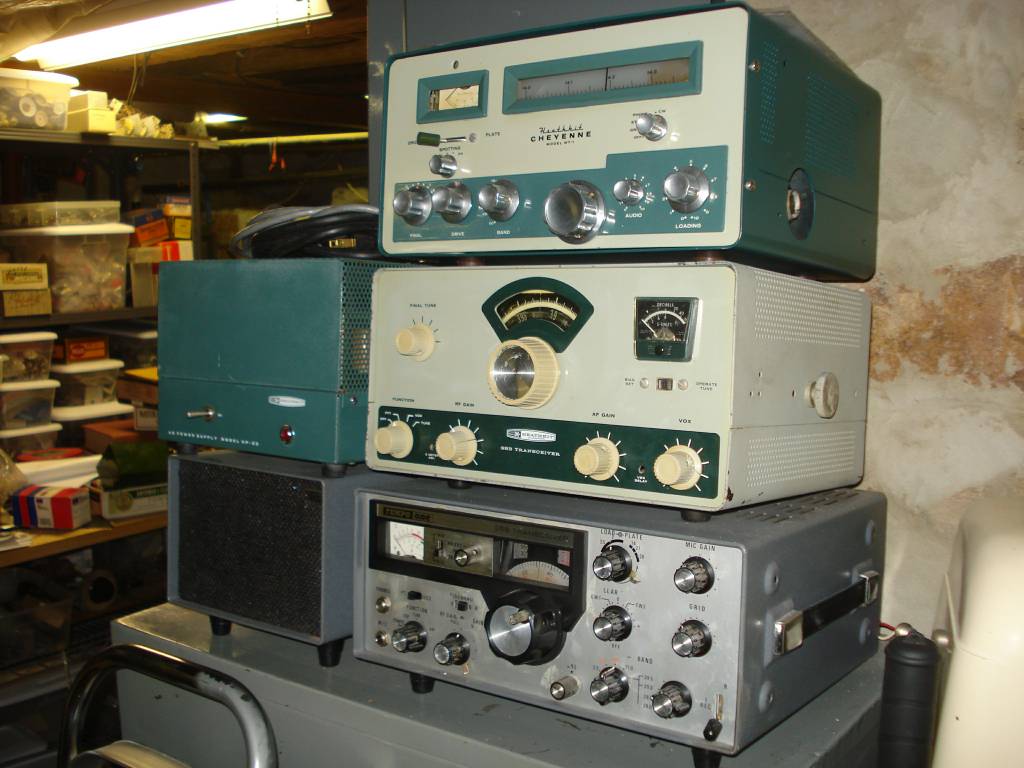 Heath Cheyenne MT-1, Heath HW-12, and the Yaesu FT-200 Tempo One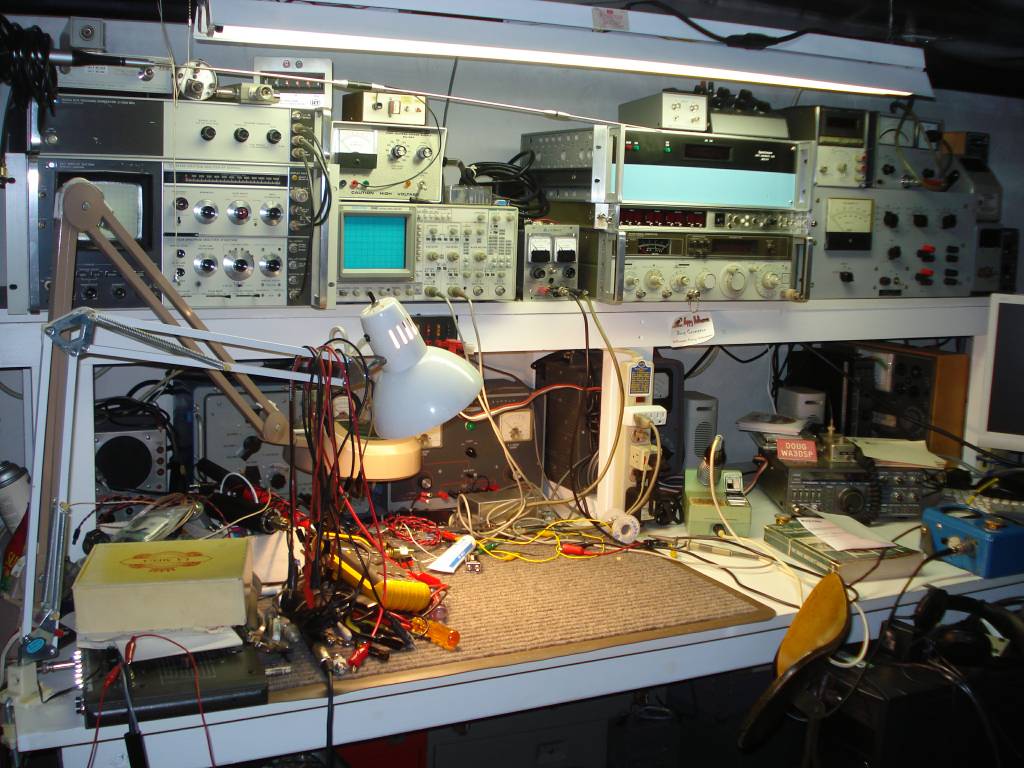 A rather messy workbench waiting for the next restoration.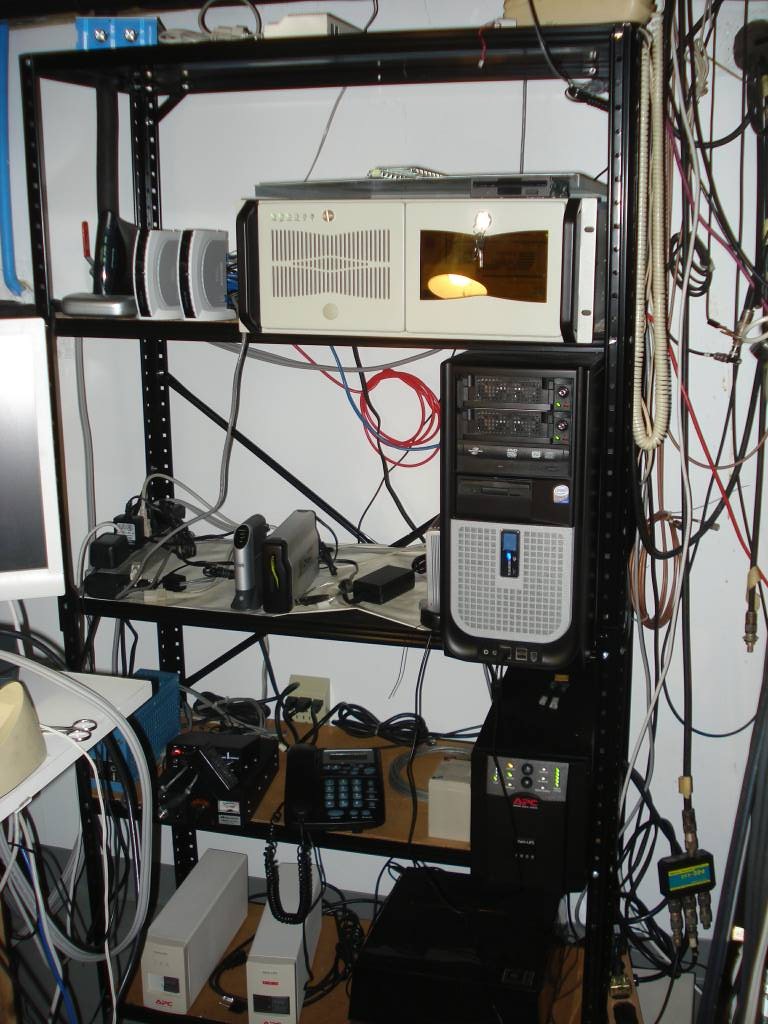 The Linux servers that make this web page available!
There are many more items not shown stored away in cabinets and not on display. To name a few: Multi-Elmac PMR-6, Hallicrafters S-38, KWM2A and power supply, HW12A, Heath Comanche MR-1, Ameco TX-86 transmitter, Heath HW-101A and power supply, Heath AR-3 receiver, Kenwood TS-430, TS-570, and TS-450, lots of vintage test equipment.
Return to the WA3DSP Amateur Radio page
&copy 2011 WA3DSP